At the end of February, we have organised the Seminar: Remodeling historical patterns: climate, structural racism and classism (February 19-21, 2021) with Gill Emslie and Andy Smith.
It has taken place online due to the restrictions of the COVID19 pandemic.
Julia Prableskova, Phase 2 Diploma in Process Work student at POPI school – Bratislava, Slovakia, explains to us how her participation in this seminar has been. Thanks Julia!
I am very grateful for the opportunity to join this seminar and training days as well. It wouldn't be possible for me without the kindness and highly professional and human attitude of Mar, Gill, Andy and brilliant translators- Meri, Anna, Laura,Samuel and Meritxell( as far as I don't speak Castellano very  well).

It has been a great experience. Even though I wasn't attracted by the topic itself of this seminar at first ( the word ecology has always had a shade of something that was irritating for me- and I have found what it was, in the seminar!) and I focused mostly on qualities and metaskillss of its teachers – step by step- mainly by my own experience in exercises- I was dragged into " the story" of our Earth naturally.

Thanks to Andy I have learnt how important taking care of my neck, while sitting at a computer, can be not just for myself but for our planet as well. This new approach allowed me to see that I do care  and I do want to be ecological at least this way.

Thanks to Gill I dived more deeply into realising my own privileges and uncomfortable feelings while talking about the white supremacy and explored some of my edges when it comes to the topic of racism.

Thanks to other participants of this seminar, mostly students of Escuela Trabajo de Procesos, but not only ( Neus,Alba, Irene, Suneetha, Inma, Violetta, Diego, Laura, Anna, Jeni, Meritxell, Samuel) I experienced deep work  together in dyads or small groups via exercises.

 A cherry on  top was the 5 of us in the group barking and laughing together after finding the essence in our roles. This was a precious moment of belonging and connection. And the other day it was followed by working on my feeling of solitude in relationships which again when exploring it more connected me with others more and I could see it in  enlarging my story in their own processes.

 Thank you for having me once again. You all are  doing a great job!

I am in the 2nd phase of Processwork training- already the 5th year of my studies🙂 in 

POPI – Bratislava, Slovakia. Thank you 

MUCHAS GRACIAS! ABRAZOS!
Thank you Julia and everyone for your participation.
It has been special and great to meet online at the REMODELING HISTORICAL PATTERNS: CLIMATE, STRUCTURAL RACISM AND CLASSISM seminar, to work on what #Work of Processes can offer at this crucial moment in our history, with @emsliegill and @andyprocess.
A change of perspective – seeing the interconnectedness, interdependence, complexity, multidimensionality of the field that we are facilitating.
This changes everything.
The results of the historical patterns of compartmentalized thinking that underpin the design of our global society and the patterns of thought itself are clearly unsustainable.
The difficulty is that many of these belief systems are now unconscious and internalized, appearing not only among global political actors, but among us in our families, communities, and relationships, and within us among parts of us.
In this context also, ecological thinking is key… and… still very new… responsibility and awareness are the important ingredients.
It has been 3 intense days and we are still working with the formal students.
By the way, you know the famous DONNUT THEORY?
The Donut: a 21st century compass. Between its social foundation of human well-being and the ecological ceiling of plant pressure lies the just and safe space for humanity. Donut Theory Image Result: The Donut Economy is a model proposed by Kate Raworth that seeks financial growth while boosting the well-being of all. This system, which proposes a dignified, fair and sustainable lifestyle; it could be the solution to the coming crisis.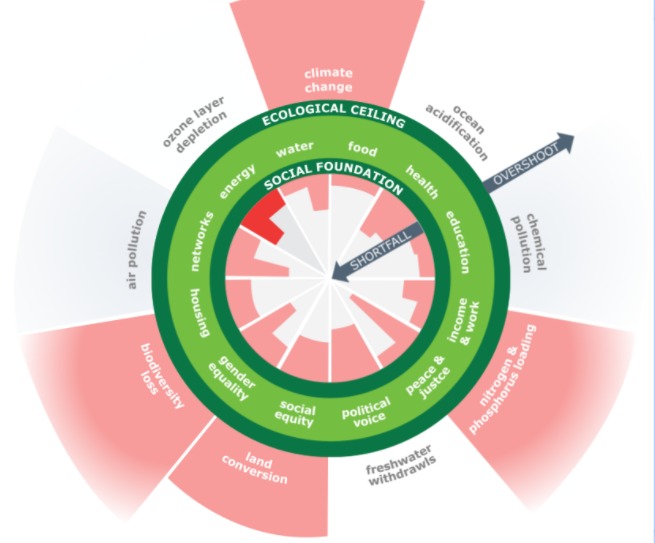 Thank you all for coming! In May we have the next seminar, soon we will open registrations. We continue working for a better world.