This one-year (january to December) program is based on three learning foundations:
Learning in community

Uniting the inner and outer worlds

Mentoring and individual sessions
Students work in a group context, formed by groups of peers who progress together through the program, as part of a learning community.
This training model accelerates the learning process through the rich exchange of experiences and ideas that occurs in the relational and community environment. The student support network continues to work together between seminars and training days through online learning, sharing groups and conference calls.
Process-oriented facilitation is more than a set of skills. It is a lifestyle of constant learning that connects our inner experiences with the world around us. The program is designed to improve students' careers and nurture their personal and professional goals. The creative application of facilitation skills in different areas of interest is encouraged.
Personal interaction and the mentor-student relationship is a cornerstone of the Diploma program. The students of the School are guided throughout their studies by an individual facilitator and a study committee formed by two members of his/her choice. The facilitator and study committee provide guidance, support and feedback. The members of the study committee thus become the main support, point of contact and orientation for the student in the program. In addition, supervisors and practice supervisors also provide ongoing individual guidance and support for students throughout the program.
We recommend the Foundation Year training if:
You are interested in knowing yourself more as a human being and living closer to your potential.

You are interested in developing a Process Work perspective of life processes and challenges that occur through relationships and by being part of groups or communities.

You are interested in health problems with body symptoms, altered or extreme states of consciousness and also dreams and fantasies.

You are interested in developing many of the skills and meta-skills necessary to facilitate difficult situations.

You are interested as a professional in deepening your skills to facilitate individual and / or group processes.
By the end of the Foundation year, students will have acquired:
An understanding of the frameworks and structures employed in Process Work to "map" the various processes and enable intervention and facilitation.

Knowledge of the different applications of Process Work.

Practical experience with different facilitation tools and techniques.

They will also have learned to identify those tools and techniques with which they are most comfortable, and acquired a deeper understanding of their learning edges and connection with their dream land.

A greater awareness of their personal and professional goals and their process of individualization (or personal growth), and the relationship between the two.
Admission process Foundation Year (January - December)



Fill in the registration form on the website before NOV 15th.
Therapy session with a Process Work worker in which the candidate explores his/her entrance to the program in depth with the therapist (in videoconference or in person)
Write a summary of the therapy session and send it to the student coordinator info@trabajodeprocesos.net.
Send us the final documentation, which must include: 

personal information,
CV,
summary of the therapy session,
personal description of your motivation to study Process Work and
two professional references, establishing a background and a predisposition to learn in a process-oriented way

Interview with 2 Process Workers (in videoconference or in person)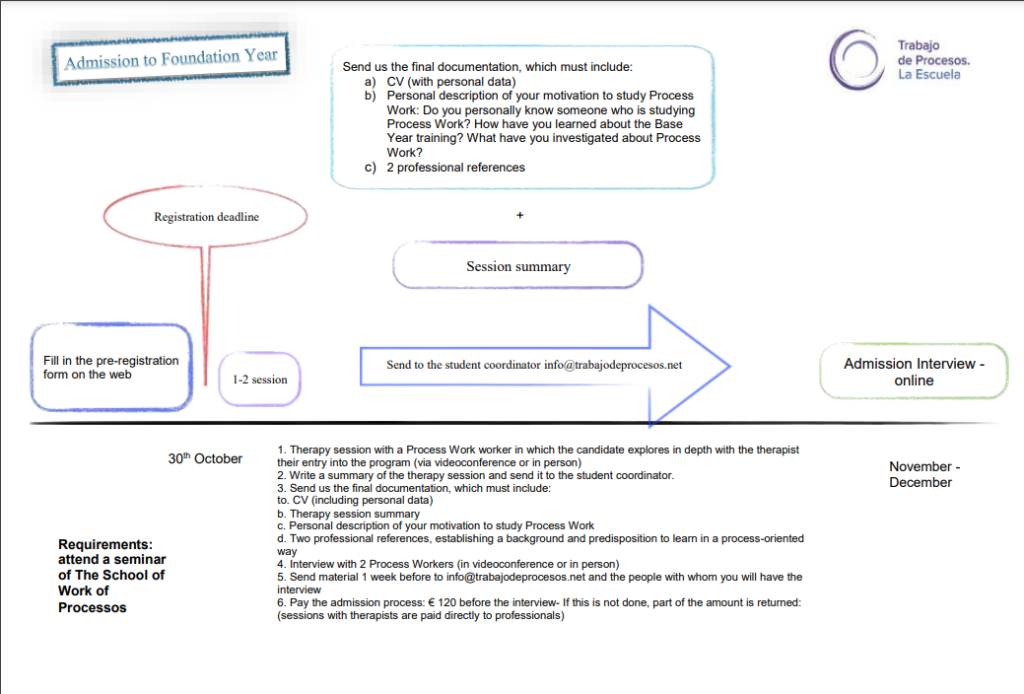 Once you have completed the entry process and have been admitted to formalize the registration, you must pay the registration fee for the course that begins in January: €350 / year – 2022 data.
In 2023 School prices will be iincreased in 10% due to inflation
MODALITY OF TRAINING:
The training is mainly face-to-face (requirements to pass the base year: 18 days of mandatory face-to-face training) and bilingual.
The training activities are in English and Spanish, always with simultaneous translation, but as the training progresses there is a lot of information in English, so knowledge of this language will be very useful.
Pre-registration for the Foundation Year
If you have any questions about the training mark the box at the end of the form and we will contact you to arrange a meeting through Skype or phone.
We ask you to complete the details below to pre-register for the Process Work training. We respect your privacy, your data will be used only for that purpose and we will not share it with anyone else.