We are very happy to take stock of the participation in the online capsules in 2021 and we can say that this format has been consolidated.
After the successful reception of the capsules during 2020 to adapt to the pandemic, and present new topics for 2021 at the hands of the teachers of the School of Process Work, we can say that they have had very good participation and evaluation.
The online capsules of Process Work are independent and experiential modules facilitated by the teaching staff of our School that offer the possibility of having contact with the Process Work methodology in an agile, brief (3h) and participatory space and without the need to have previous experience and at a very affordable price, € 30 (€ 20 for students from The School and formal students of Process Work from schools associated with IAPOP).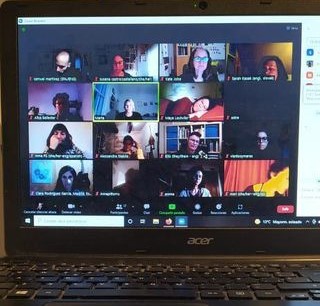 Photo: Image of the last capsule with Kate Jobe this past November 2 with the participation of people from different countries. Capsule in English and Spanish with translation.
In addition, as in all our trainings, we have offered discounts for people in a difficult financial situation after COVID19.
METHODOLOGY
Our online capsules are independent (online) trainings, each lasting about 3 hours, which will consist of an introductory theory part of the Process Work methodology in these areas that the capsules work.
The main objective is to learn specific skills in these challenging times that we are living.
Training in English and Spanish with translation.
No experience in Process Work is necessary
CALENDAR 2021 and topics:
Men and Power part 1 and 2- ONLY MEN Facilitates: Sergi Barrientos
Dreaming in Locking Places Facilitates: Lily Vassiliou
Critical voices: Tiranas or allies – 1 and 2 Facilitates: Lety Mendoza
Your Body's Role in Fighting Oppression Facilitates: Kate Jobe
We are already starting to work on the activities program for 2022.
Can you help us by proposing new topics of your interest?
SURVEY: PARTICIPATE NOW