We present you some new training modules from the Process Work School.
There are 4 independent and experiential modules provided by the teaching team of our School.
METHODOLOGY
They will be independent (online) trainings of approximately 3 hours duration that will consist of an introductory theory part of the Process Work methodology in these areas.
The main objective is to learn specific skills in these challenging times that we are experiencing.
Training in English and Spanish with translation.
LIMITED PLACES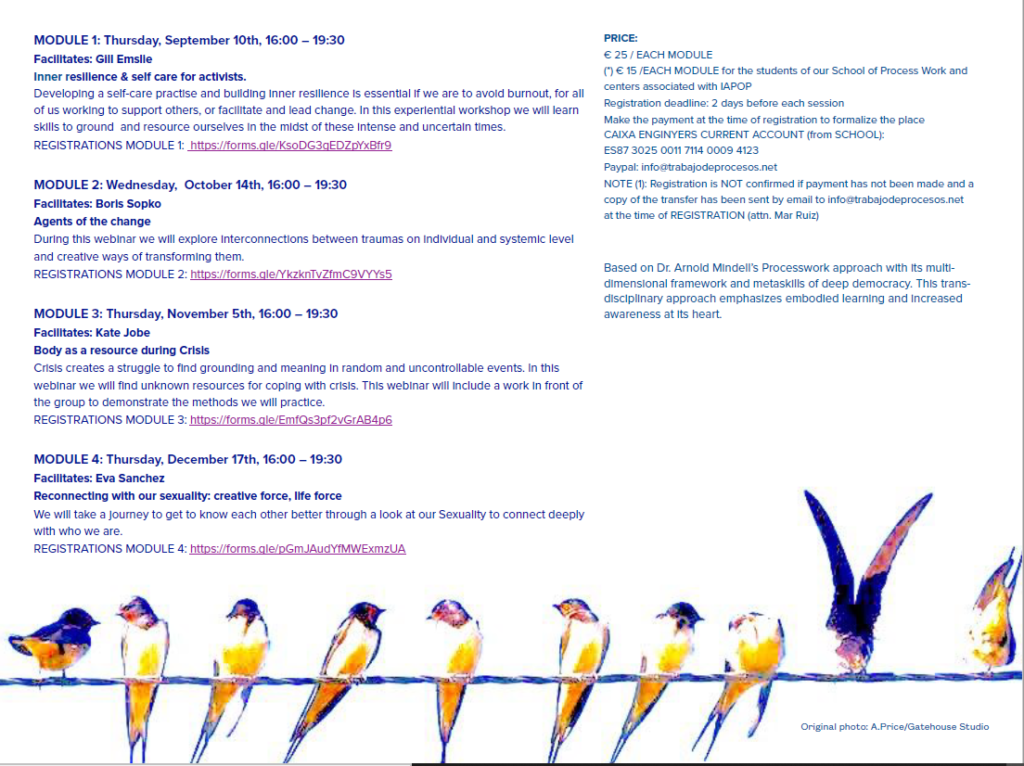 MODULE 1: Thursday, 10th September, From 16 – 19.30h
Facilitates: Gill Emslie
Building Resilience as Social Acitivists and all those in the helping professions
We will strengthen our inner resilience, expanding our skills in facilitation in times of uncertainty
REGISTRATIONS MODULE 1: https://forms.gle/KsoDG3gEDZpYxBfr9
MODULE 2: Wednesday, October 14th, From 16h – 19.30h
Facilitates: Boris Sopko
Agents of the change
During this webinar we will explore interconnections between traumas on individual and systemic and creative ways of transforming them.
REGISTRATIONS MODULE 2: https://forms.gle/YkzknTvZfmC9VYYs5
MODULE 3: Thursday, November 5th, From 16 – 19.30h
Facilitates: Kate Jobe
Body as a resource during Crisis
Crisis creates a struggle to find grounding and meaning in random and uncontrollable events. In this webinar we will find unknown resources for coping with crisis. This webinar will include a work in front of the group to demonstrate the methods we will practice.
REGISTRATIONS MODULE 3: https://forms.gle/EmfQs3pf2vGrAB4p6
MODULE 4: Thursday, December 17th, from 16 – 19.30h
Facilitates: Eva Sanchez
Re) connecting with our sexuality: creative force, life force
We will take a journey to get to know each other better through a look at our Sexuality to connect deeply with who we are.
REGISTRATIONS MODULE 4: https://forms.gle/pGmJAudYfMWExmzUA
PRICE:
€ 25 / EACH MODULE
(*) € 15 /EACH MODULE for the students of our School of Process Work and centers associated with IAPOP
Registration deadline: 2 days before each session
Make the payment at the time of registration to formalize the place
CAIXA ENGINYERS CURRENT ACCOUNT (from SCHOOL):
ES87 3025 0011 7114 0009 4123
Paypal: info@trabajodeprocesos.net
NOTE (1): Registration is NOT confirmed if payment has not been made and a copy of the transfer has been sent by email to info@trabajodeprocesos.net at the time of REGISTRATION (attn. Mar Ruiz)