Let us help Median, a 24-year-old student from Iraq, with experience in community mediation to attend one of our seminars. Because you have to apply for a visa, we believe you can attend the SEMINAR on May 8-10: SEE A PROCESS IN DEVELOPMENT.
In this regard we have opened a CROWDFUNDNG campaign:
The School wants to offer the same training opportunities to all interested people, whether they have their own resources or not. For this reason, the School has created a SOLIDARITY FUND to support the training of people with few resources in our School.
We want to support diversity in our seminars and those people with low possibilities of attending our seminars due to their countries situations. In this sense, we have received a request from Median Khidher who has been doing an internship at Deep Democracy Institute in Iraq until  as project coordinator at deep democracy institutes from May 2019 to December 201, among other facilitation professional experiences.
DDI intern which basically involves running the day to day activities of the DDI organization, to be specific for the Iraq branch, and my role ranges from Iraq direct communication from the top DDI leadership structure and execution of tasks on their behalf on the ground, event planning and organizing,  promoting and somehow being a face of DDI locally, providing any form of assistance to anyone who is interested in DDI by informing them what it entails, informing them of the happenings and upcoming events near them, and reporting the same to DDI top management.
"I grew up surrounded by the idea that as a female I must be perfectly beautiful and get married, in a community which except nothing but perfection from the female while there is no good in that community,not just focusing on female issues also poverty,refugees,education,equality,diversity,creativity and taking action for each to making a change, a better change in these issues, everything around me that I am perfectly aware and all of us are, but we need the youth power at all levels to change,dynamic and reshape to make sure youth voices are heard and heeded not over looked and ignored but the most recent issue we are having in our community. They see that it's a wrong thing a female to be famous socially effective person and they feel like they are underrated , in a country living a lot of religious, cultures , origin the equality in diversity is something shouldn't even be discussed is something that should be given , and interaction between the citizens and the refugees culture,though, costumes and foods ETC.. the refugees shouldn't be underrated and be treated like they are in there home they shouldn't be less educated or have a lower level of respect cz one day they also had. Being Facilities s an important thing to me as it's part of my personality and something that I truly want to improve over and over in my life I will always look for new techniques,programs, motive people to improve my skill.is part of my daily life as l am working in sectors of humanitarian And coordinations would be such pleasure for me to participate in such conferences to speak up about not only me but all of people what they are facing instead if of giving them their write we as 500 facilitator should getting started and show up the writer and best way of solving…
Kindly am asking for any scholarship that than support me to attend this training I am iraq some activity in environmental had so many challenges with community because of my background culture facing a lot of challenges who are not allowing me to improve my skill and community to better if how I could live they way I dream. But  my family cannot support me in this. So I was wondering if it would be possible for you to cover. or at least make a 50% contribution towards my ticket. I'll be very grateful to you if you can assist me with this because this program means a lot to me and it's really important for me and my future career and a great opportunity to grow and develop my skills and it will affect my capacity building. Therefore I ask for your kind consideration.
Best regards,
Median "
Her flight expenses to our Seminar in March: 400USD – Around 370€.
From the SCHOOL we will try to facilitate her participation in the course with a scholarship, but we need help so she can pay for the flight.
We need your solidarity!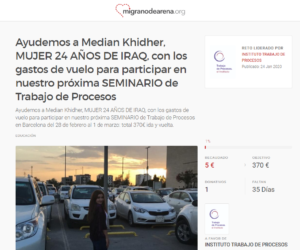 POR USE PAYPAL: INFO@TRABAJODEPROCESOS.NET
NOTE: IF WE DON'T GET THE AMOUNT SO THAT I CAN FLY OR THERE IS A VISA PROBLEM, THE MONEY WILL GO TO THE SCHOOL SOLIDARITY FUND TO GRANT ANOTHER STUDENT IN SIMILAR CONDITIONS.
THANKS TO EVERYONE IN ADVANCE, SHARE EXPANDED BETWEEN YOUR CONTACTS.
"For me facilitation has been a great journey so far though I can describe it as a gradual process which has taken time. I can't say am perfect though am at a place where I can say so far so good. Most of my facilitation practice has been built whithin DDI (Deep Democracy Institute) and I have had some instances I have practiced outside the same. The major benefit that for me comes with it is working with two different groups of different reasoning and though, and an outlook to life, and in that space and moment you have to be neutral and handle the situation till it comes to a complete or temporary resolution, one of the major challenges experienced in that moment is since you are handling two different groups, then there is a lot of pressure and you have to at all times to hold yourself together and never be favoring any group.
Secondly you have to learn to take control because there are instances when everything gets heated and you being the facilitator you have to take the role and maybe call the group to order or if you feel like someone is taking too much time then you have to stop them to give others sufficient time, but it's also a skill because if you mess up then you end up becoming an enemy of the group and the process automatically switches to be about you. Then you have to be very keen if you feel you fit in a role and you go personal, you must avoid teaching and make sure once you work on whatever you had then you assume your role of being the facilitator. Then you also get to learn about coordination especially if you have a co-facilitator and you have to work on the chemistry so as not to overshadow the other and being the one in command, so for me I can say it's so many lessons learnt so far and interest and hoping to learn more."