Again, we are closing the month of December and the year, goodbye 2021, with a backpack full of new learnings.
At the School, 2 new graduates: Meritxell Martínez and Inma Pascual
They started in 2012 and 2015, respectively, and wow, what an exciting road, THANK YOU TO YOU! We can only say: CONGRATULATIONS!
They are added to the list of local graduates, 13 in total. Nice number! Many of the graduates are already part of the School's teaching staff.
1. Mireia Parera
2. César Fernández Pérez
3. Conchi Piñeiro
4. Eva Sanchez Diaz
5. Sergi Barrientos
6. Nuria Danés
7. Sara Carro
8. Anna Pujol Villarroya
9. Barbara Rabinad Coll
10. Ana Espadalé
11. Blanca Fariña Pages
12. Meritxell Martínez Bellafont
13. Inma Pascual
We want to thank you all for joining us on this path, this 2021 which has marked the 10th anniversary of the School (modest and silent due to the health situation) and after these two hard years after the global pandemic began in March 2020.
We are very proud and with a great effort to keep everyone afloat, the School has given aid worth almost € 5000 in exchanges in 2020 and we have almost doubled it in 2021, with almost € 9000, so that no one will stay back for economic reasons derived from Covid.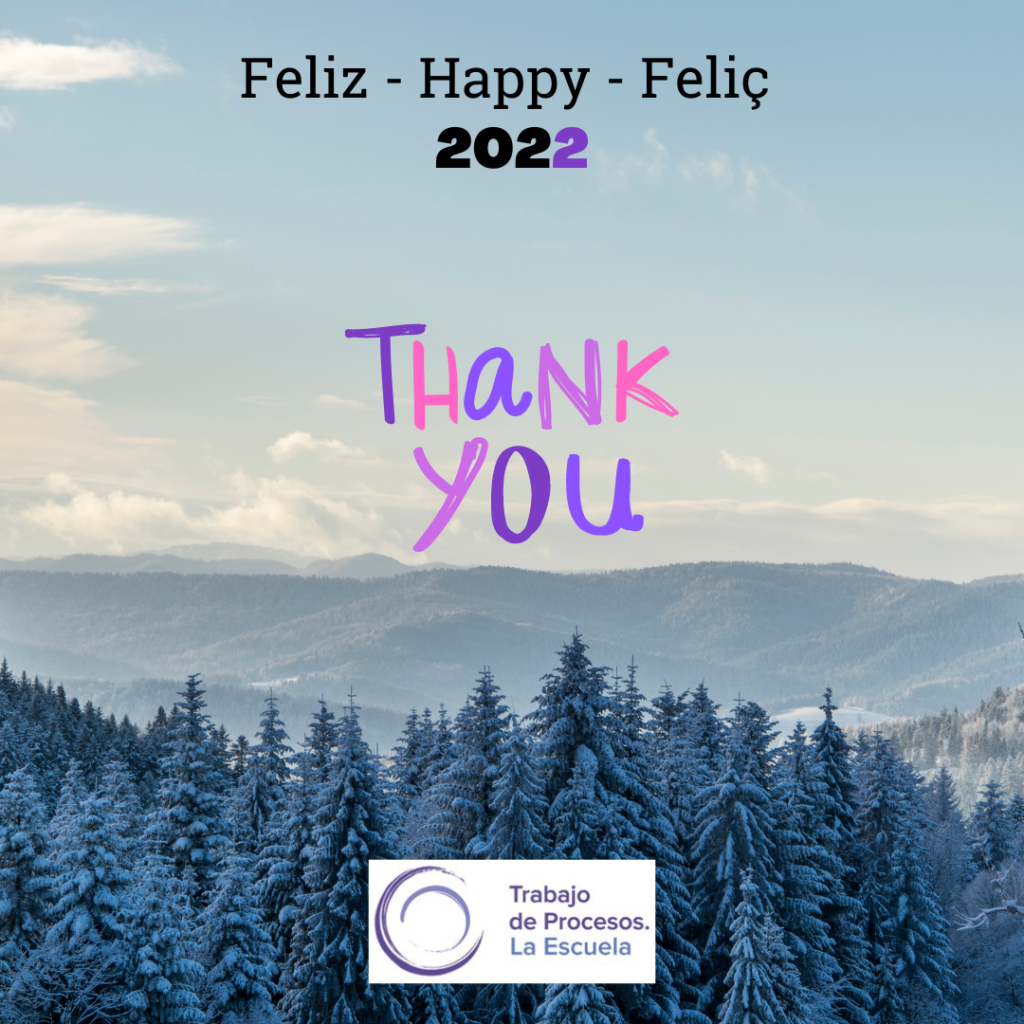 Now we can only wish you a happy new year 2022 and a happy rest, disconnect to reconnect in January 2022 and continue with our activities.
Our objective continues to offer training in Process Work from Spain and in Spanish with international ambition, but with local roots.
We will try to return to the maximum possible presence by maintaining hybrid events to guarantee a greater scope in certain activities.
We hope to see you in as many trainings and activities as possible and that our community and methodology, as applications, grow and offer effective solutions adapting to the current situation of society.
Thanks!
Team of the School of Process Work in Spain