Our colleagues from the Human Conflict Transformation Center send us this information:
🌏 "A WORLD ON FIRE. Challenging prospects in uncertain times" with Gill Emslie and Ana Rhodes
👉 Next Saturday 9th and Sunday 10th of October will take place this Face-to-Face Workshop
👉Friday, October 8 – Supervision only for official Students of the various Process Work Centers.
The complex sociocultural dynamics that we are experiencing today worldwide are having a great impact on our daily lives and are affecting our relational, family, work and group dynamics. The Coronavirus has awakened a conflictive experience and loss of our stability. We are living moments close to the death of beings we love, as well as the sensation of radical changes in life habits. We want to see Death as an Ally of life and not as a monster just around the corner waiting to catch us.
They will present concepts and new ways of dealing with conflicts that are present in society in general, in our personal relationships and in our inner experience. This event is aimed at leaders of organizations, teams and communities, facilitators of large groups, mediators and anyone interested in resolving conflicts and assuming leadership. The principle and practical application of non-locality. The idea that personal conflicts and world events are intrinsically connected. Addressing a conflict that seems personal in a large group and from a social perspective can bring relief to the entire field and to the individual alike.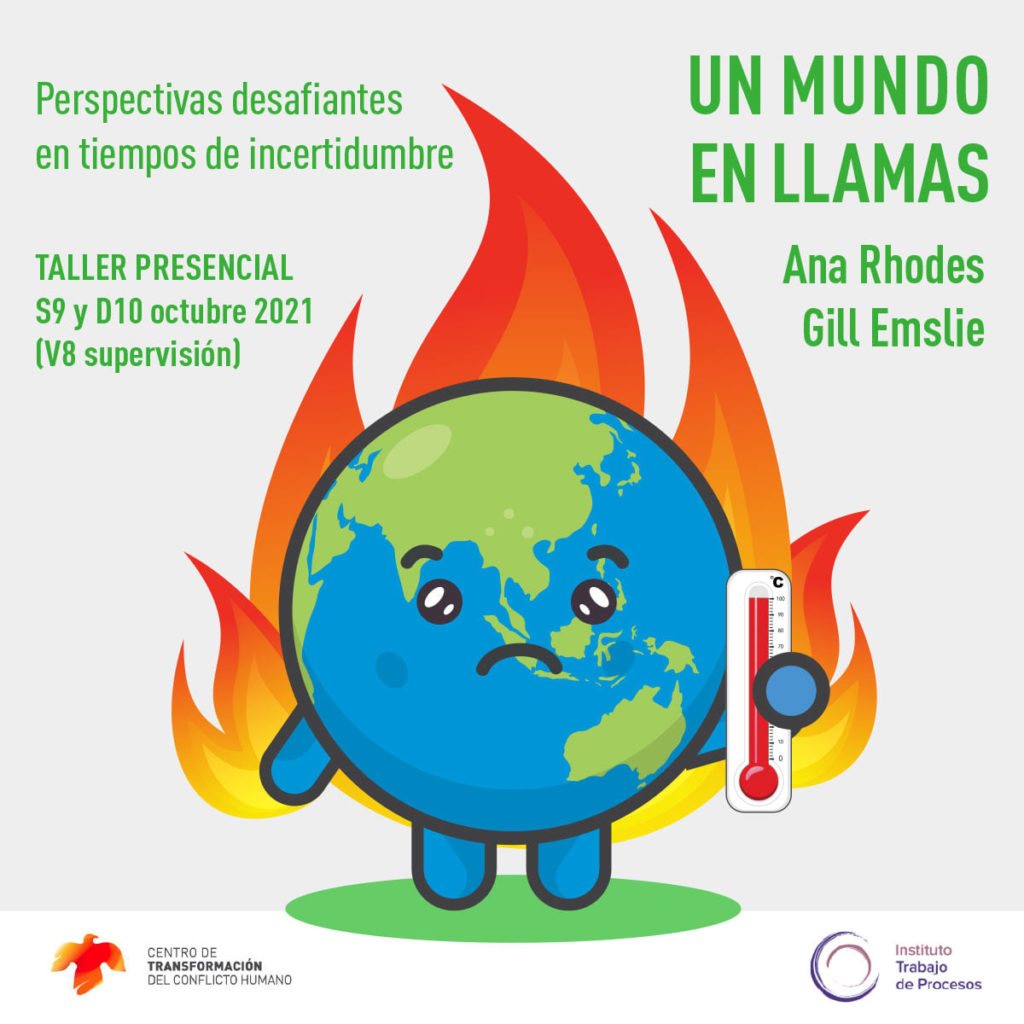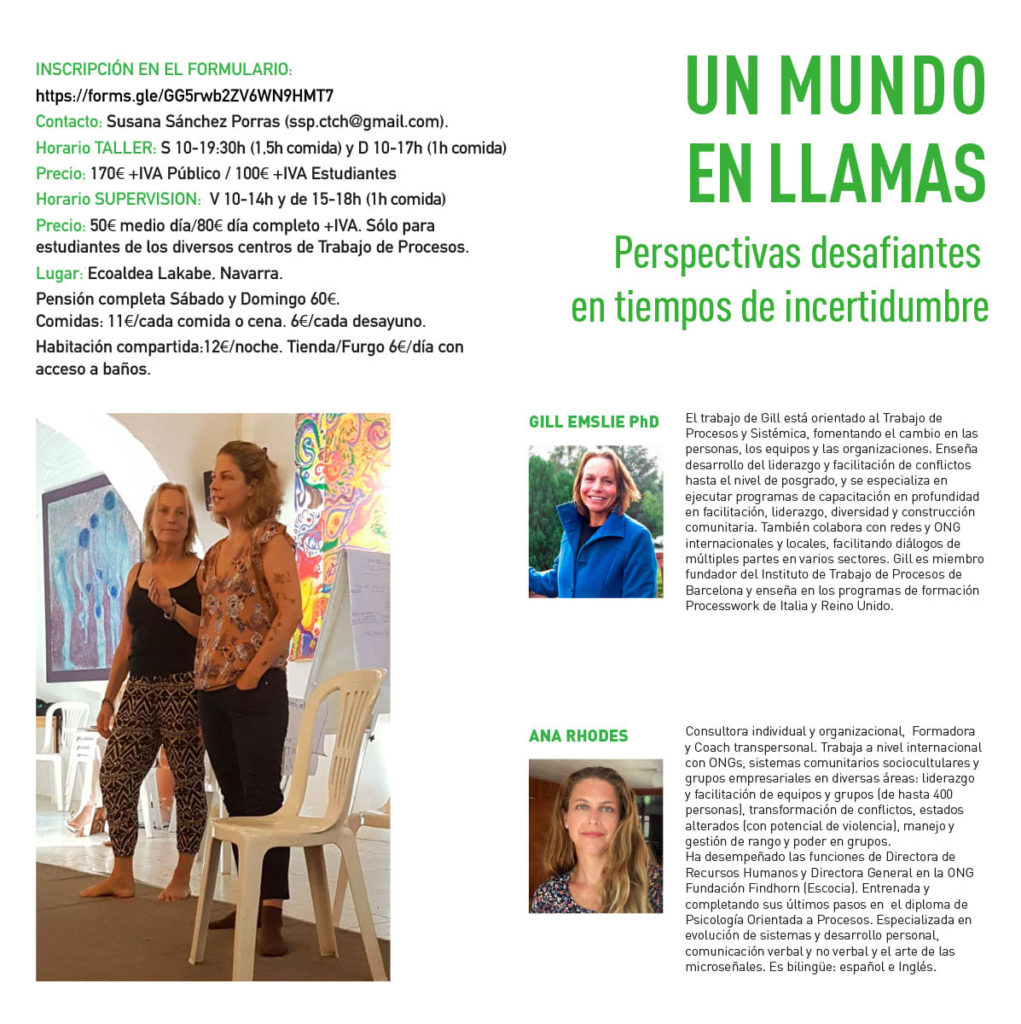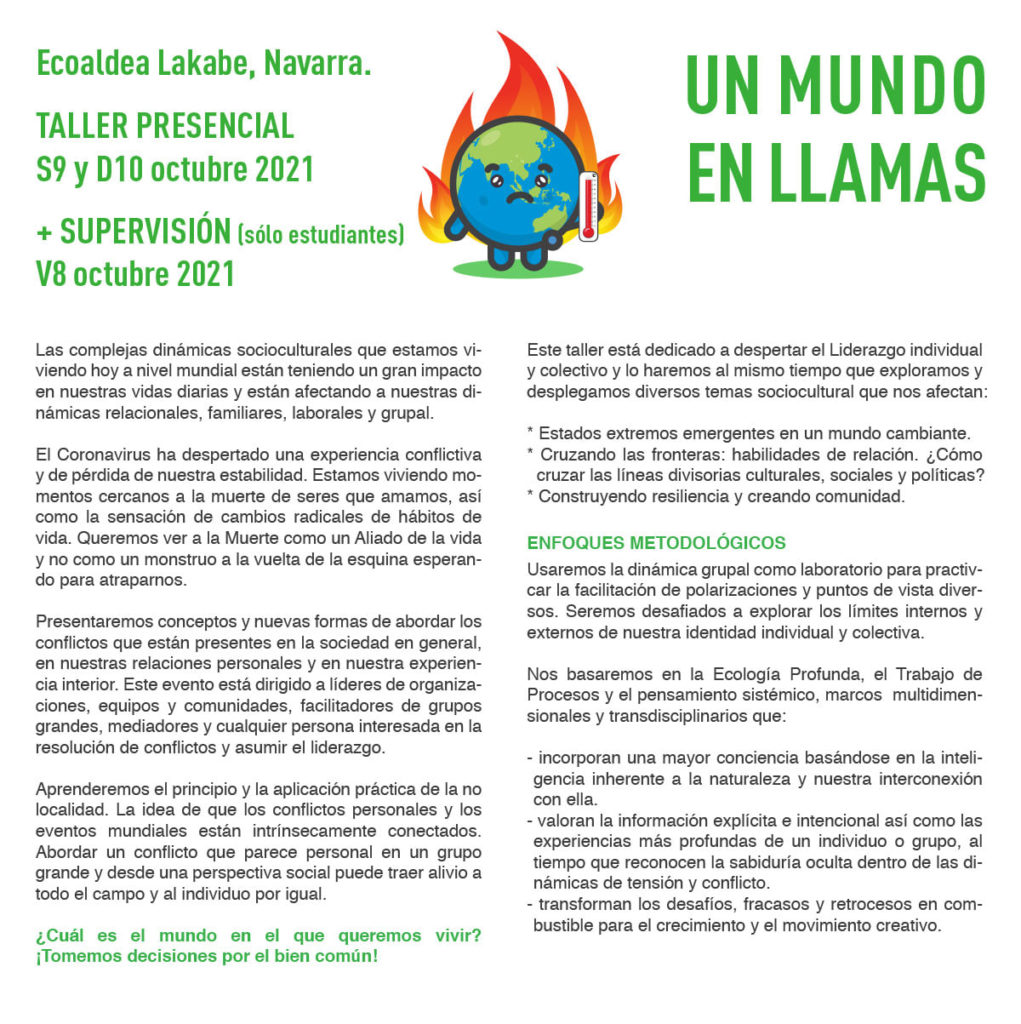 What is the world we want to live in? Let's make decisions for the common good! This workshop is dedicated to awakening individual and collective Leadership and we will do it at the same time that we explore and unfold various sociocultural issues that affect us: * Emerging extreme states in a changing world. * Crossing borders: relationship skills. How to cross cultural, social and political dividing lines? * Building resilience and creating community METHODOLOGICAL APPROACHES We will use group dynamics as a laboratory to practice facilitating polarizations and diverse points of view. We will be challenged to explore the internal and external limits of our individual and collective identity. We will draw on Deep Ecology, Process Work and systems thinking, multidimensional and transdisciplinary frameworks that: – incorporate a greater awareness based on the intelligence inherent to the nature and our interconnection with it. – value explicit and intentional information as well as the deepest experiences of an individual or group, while recognizing the hidden wisdom within the dynamics of tension and conflict. – transform challenges, failures and setbacks into fuel for growth and creative movement.
Contact: Susana Sánchez Porras (ssp.ctch@gmail.com)
WORKSHOP Hours: S 10-19: 30h (1.5h lunch) and Sun 10-17h (1h lunch)
Price: € 170 + Public VAT / € 100 + Student VAT
SUPERVISION schedule: Fri 10-14h and 15-18h (1h lunch)
Price: € 50 half day / € 80 full day + VAT. Only for students from the various Process Work centers.
Place: Ecoaldea Lakabe, Navarra.
Full board Saturday and Sunday € 60.
Other options in the form.
👉 Registration: https://forms.gle/GG5rwb2ZV6WN9HMT7